Window Lock Repair & Installations Melbourne
Providing Best Locksmith Services across Melbourne and Metro Area
Window
Locks Installation
Thieves can easily use your house windows as the primary access.
Fleet locksmiths offer you the right window lock solution for all timber and aluminium windows, including sash, casement, awning or sliding.
We recommend installing Lockwood window locks that offer ease of operation, which come in various colours and trendy designs.
Having locks on all your doors but not having locks on your windows can be a problem. As usual, the next action for thieves is to test the windows.
Usually, when they break the windows, you will be alerted to the sounds and can prepare but having that extra security is always a bonus and peace of mind.
We provide many services and window locks, including the best in locks for windows.
Some of them are the following
Whitco Window Locks
Sliding Window Locks
Casement Window Locks
Lockwood
Replacement Locks for Windows
Childproof
Replacement Keys
Operated Window Winder
Suitable for timber or aluminium awning windows
Smooth operation
Foldable handle
Through flyscreen operation
Push the button to lock, the key to unlock
Can be wound closed when locked
Less than 1mm between locking points
Hooded sash bracket prevents the chain from being disengaged from the sash
Maximum opening 300mm (20 turns to fully open)
It can be restricted to 100mm and 150mm opening. Restriction clip included in the accessory packet.
Maximum weight of sash 15kg
Body length 280mm
Restricted opening models are also available
Zinc diecast body and mechanism
Zinc plated steel base plate
Passivated zinc steel chain
Finished in white
Supplied bulk packed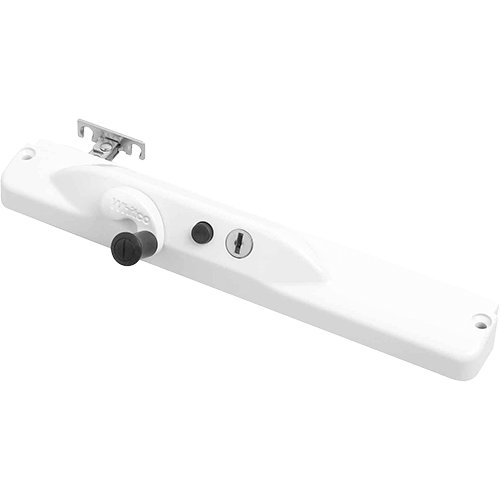 Supplied KEYED ALIKE. If you require keyed differently, please contact us.
Silca LW4 keyway
Can be supplied in keyed alike groups in quantities in 1-200
You can match it to most door locks for one key convenience
High security, robust construction, resists attack
Concealed fixing for security and style
Ergonomic knob design for ease of use
Contemporary & modern design
Key to lock, the key to unlock
Twist and pull to remove the bolt
Strong 9.5mm steel bolt
Bolt engages without locking for safety
Allows window to be locked in closed or secure ventilation position Sliding and Double Hung applications
Reversible bolt for left or right-handed installation
Zinc diecast metal body
Stainless steel ferrule for timber applications
Trade packs
Made in Australia with some imported components
Finished in Silver, Mahogany, Black, White or Primrose.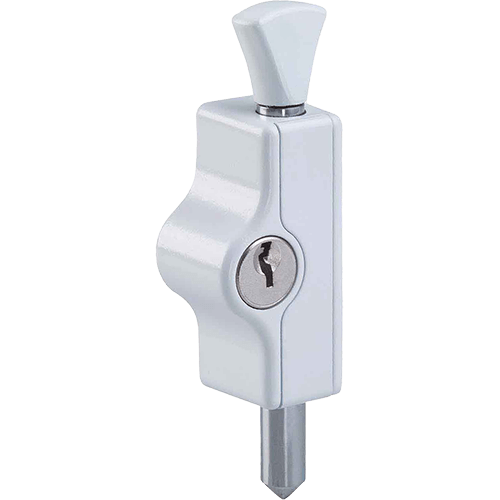 Awning And Casement Windows
Features of the Leichhardt Sliding Security Screen Door Lock
High out-of-reach windows
Conveniently open single or a group of windows
Commercial buildings
Residential buildings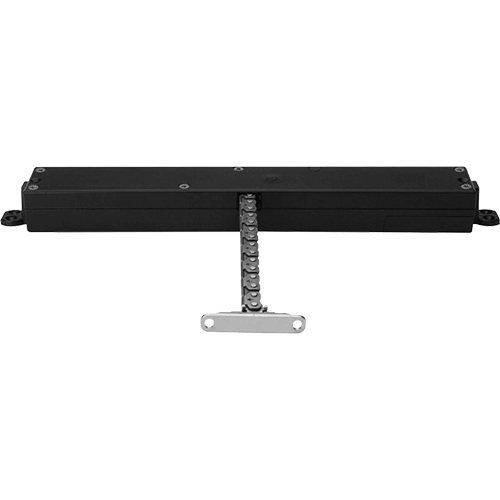 Features
Actuators can be controlled individually or grouped into zones
The actuator can withstand 220kg of applied negative pressure*
9kg closing force ensures a tight window seal when closed
Smooth chain movement
40 seconds Opening/closing time
300mm chain opening
Strong, corrosion-resistant stainless steel chain (grade 304)
Field adjustable chain limiter. Limit chain between 50-300mm @ every 10mm
Quick clutch release Key for easy installation without power connected
Connect and synchronize a pair of window actuators to one large window
Ability to install actuator in multiple orientations, including top and bottom chain exit.
Will cater for window sashes as short as 300mm high**
Can connect to touch screen display, standard wall switch or Cbus systems
Network cabling can span up to 300m without voltage drop
Connect and control up to 30 window actuators to a touch screen display
Can connect multiple actuators (31 maximum) to a standard wall switch
Entrance, Privacy and Passage functions available for the
complete residential solution
For information on a Sliding Door Locks installation cost or fitting of door locks in general contact Fleet Locksmiths and we will be happy to assist you.
How much does it cost to have a deadbolt installed you are wondering? Give us a call on 0405544922 or fill out an Enquiry on our contact page and we will answer your questions.