Residential Door Locks Installation & Repair Services Melbourne
Providing Reliable Services Across Melbourne & Metro Area
Deadlocks & Deadbolt
Locks Installation
Investment in the security of your external door handles and locks should be of high priority. With the addition of high-quality deadlocks, it not only protects your family and valuable assets but also keeps out uninvited guests.
Burglars can immediately identify any door that is not professionally secured as an easy target. Fleet Locksmiths can also work with you to bring your home security in line with current insurance requirements.
If you are looking for ways to open a door without a key from the inside the best choice would be an installation of a deadbolt or deadlock. We use Lockwood & Brava locksets as they provide the best quality and protection.
Adding a deadbolt to a door is an easy process and something that is recommended to give that added security
There are varying types of deadlocks and deadbolts including
Single Cylinder
Double Cylinder
We also assist with repairing these kinds of locks in the case of damage or wear and tear of the locks or deadbolt lock mechanism problems. If you need to replace a deadbolt or your deadbolt is in need of a repair call Fleet Locksmiths for assistance.
What is a deadlock door?
A door fitted with a deadlock is a door which is much harder to open if you don't have the proper key. Trying to gain access is more difficult than normal locks, and you would most probably need to take the whole door off by removing the hinges. The door can only be locked when fully closed, so you can't accidentally close it. These locks are much more difficult to pick than the standard spring locks and are a significant deterrent.
Please make sure you also have strong security on your windows in addition to your doors for an overall security solution.
There are a few different residential door locks including
Electronic door locks
High-security door locks
Keyless door locks
The wide range of various locking mechanisms for homes allows everyone to approach the type of lock best suited for them. All locks are of high quality and provide the best security for your door.
Paradigm 005 Double Cylinder Deadbolt
Designed in Australia, the Paradigm 005 Double Cylinder Deadbolt represents the pinnacle in deadbolt security products.
Incorporating innovative safety features including Safety Release™, LockAlert®, and DualSelect®, the 005 Double Cylinder Deadbolt is ideal for residential and architectural applications.
Features of the 005 Double Cylinder Deadbolt
Conforms to the security and durability requirements of Australian Standard AS4145.2-2008 | SL8D8C6K5
Multi-mode slimline deadbolt providing safety, security and convenience
Simple to install
High security cut resistant stainless steel bolt
Available in round or square designs
Box strike with concealed cross-grain doorframe strengthening screw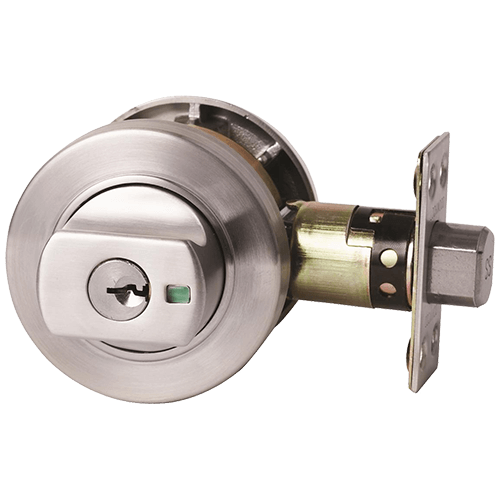 BRAVA Urban BRT3600 series entry knobset. Domestic grade entrance knobset.
Entrance function
Key outside locks and unlocks both knobs.
Turnsnib inside, locks and unlocks both knobs.
Additional info
Tiebolt fixing.
Silca LW4 profile.
Spherical knob design
Rekeyable to 6pin.
2 keys supplied.
Supplied boxed (and colour coded) with mounting hardware.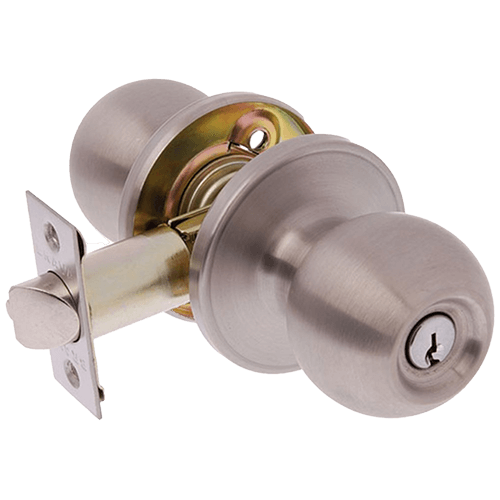 Lockwood Sliding Door Lock Range
Lockwood's sliding door lock range is possibly the most innovative and aesthetically pleasing lock for a cavity sliding door in Australia. Combining elegance and ease of use, the Cavity Sliding Door Lock is ideal for any home décor and security solution.
Not only will the internal bathroom or lounge room sliding door have a contemporary look, but the interconnecting door from the garage to the laundry can be fitted with a key lockable entrance-set for security.
Heavy duty single cylinder and turn deadbolt.
Ideal for both commercial and domestic applications.
Incorporates the popular PD 8221 style cylinder.
Compatible to most restricted key systems.
Construction keyable on all chambers.(Using BRUCKBALL)
Suits door thickness 35-45mm.
Supplied with 1 spacer for thinner doors.
Adjustable 60/70mm backset.
Heavy duty saw resistant bolt.
Includes all mounting hardware.
Silca LW4 profile. (Rekeyable to 6 pin LW5)
Finished in polished stainless steel.
Supplied boxed.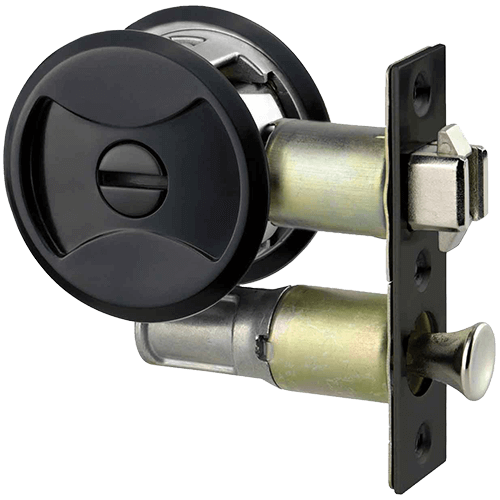 Entrance, Privacy and Passage functions available for the
complete residential solution
For information on a Sliding Door Locks installation cost or fitting of door locks in general contact Fleet Locksmiths and we will be happy to assist you.
How much does it cost to have a deadbolt installed you are wondering? Give us a call on 0405544922 or fill out an Enquiry on our contact page and we will answer your questions.