Table of Contents
Introduction
At Fleet Locksmiths, we pride ourselves on our ability to handle a wide range of automotive locksmith challenges. Recently, we encountered a unique case involving a Hyundai i30 2014 with all keys lost. This job was especially complex due to the vehicle's conversion from a manual to an automatic gearbox, which led to several changes in its modules. In this blog post, we'll share the story of how our expert team managed to resolve this issue and provide a seamless solution for the customer.
The Challenge: Hyundai i30 2014 All Keys Lost and Module Changes
Our client contacted us when they found themselves stranded in the Crown Casino car park with a Hyundai i30 2014 model and all keys were lost. This situation was made more complicated because the car had undergone a conversion from a manual to an automatic gearbox. As a result, several modules in the vehicle had been changed, including the immobiliser box, ECU, ignition barrel, and door lock. This meant that the conventional approach to automotive locksmith services would not suffice.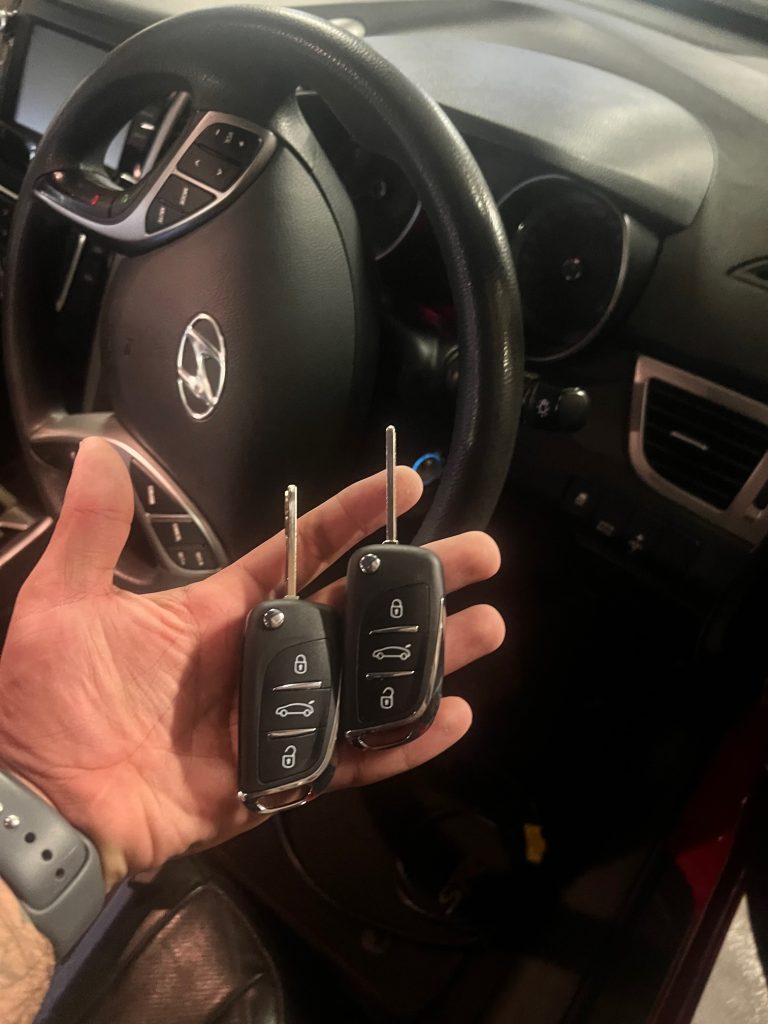 The Solution: Use EEPROM to Retrieve the PIN Code and Register New Keys
To address this unique challenge, our experienced locksmiths had to think outside the box. We decided to use an EEPROM (Electrically Erasable Programmable Read-Only Memory) approach to retrieve the PIN code for the vehicle. This method enabled us to access the car's security system and obtain the necessary information to create new keys.
With the PIN code in hand, our team then proceeded to register two new keys for the customer. Throughout the process, we maintained our commitment to delivering the highest quality locksmith services to ensure a satisfactory outcome for our clients.
Why Choose Fleet Locksmiths for Automotive Locksmith Services
This case demonstrates the expertise and versatility of our team at Fleet Locksmiths. Whether you find yourself dealing with a standard lockout or a more complex scenario like this Hyundai i30, you can trust us to deliver fast and efficient solutions.
We offer a wide range of automotive locksmith services in Melbourne and its surrounding areas, such as Brunswick, Heidelberg, and Preston, among others.
In addition to automotive services, we also provide residential locksmith and commercial locksmith solutions. We even offer emergency lockout services to help you regain access to your property quickly and efficiently.
Contact Us for Reliable Locksmith Services
If you ever find yourself in need of a skilled and reliable locksmith in Melbourne, don't hesitate to contact Fleet Locksmiths. Our experienced team is ready to assist you with any lock or security issue, no matter how complex.
For more locksmith tips, industry news, and updates on our latest projects, be sure to check out our blog regularly.
Comprehensive Automotive Locksmith Services Offered by Fleet Locksmiths
At Fleet Locksmiths, we understand that automotive locksmith needs can vary greatly from one situation to another. That's why we offer a comprehensive range of services to cater to all your vehicle security needs. Here's a breakdown of the different automotive locksmith services we provide to ensure your vehicle remains safe and secure.
Car Key Replacement
Losing your car keys or having them stolen can be a stressful experience. Our expert locksmiths can quickly create replacement keys for most makes and models, helping you regain access to your vehicle with minimal disruption.
Transponder Key Programming
Modern vehicles come equipped with transponder keys that require programming to work correctly with the vehicle's immobilizer system. Our team is well-versed in programming transponder keys, ensuring your new keys work seamlessly with your vehicle.
Ignition Repair and Replacement
A faulty ignition can leave you stranded and unable to start your car. Our skilled technicians can diagnose and repair ignition issues or replace the entire ignition system if necessary.
Car Key Extraction
Broken keys stuck in the lock or ignition can be a frustrating problem. Our team has the expertise and tools to safely extract broken keys without causing further damage to your vehicle.
Vehicle Lockouts
Locked out of your car? Our emergency lockout services can help you regain access to your vehicle quickly and efficiently, without causing any damage to your car.
Lock Rekeying
If your car keys have been stolen or you're concerned about unauthorized access, our team can rekey your vehicle's locks to ensure your security and peace of mind.
Remote and Smart Key Services
We also offer services for remote and smart keys, including programming, battery replacement, and troubleshooting.
Why Choose Fleet Locksmiths for Your Automotive Locksmith Needs
Fleet Locksmiths has earned a reputation for providing reliable, professional, and timely automotive locksmith services in Melbourne and its surrounding areas. Our expert team is dedicated to ensuring your vehicle remains secure and accessible when you need it most.
Discover What Our Customers Have to Say About Fleet Locksmiths
At Fleet Locksmiths, customer satisfaction is our top priority, and we strive to provide the highest level of service to all our clients. But don't just take our word for it – we invite you to check out our Google profile to see what our customers have said about their experiences with our team.
Click here to visit our Google profile and read our customer reviews.
Our Google profile features numerous testimonials from satisfied clients who have benefited from our wide range of locksmith services, including automotive, residential, and commercial solutions. These reviews highlight our commitment to quality workmanship, professionalism, and timely service, reflecting the values that have helped establish Fleet Locksmiths as a trusted provider of locksmith services in Melbourne and its surrounding areas.
If you have had a positive experience with our team, we would greatly appreciate it if you could take a moment to leave us a review on our Google profile as well. Your feedback helps us continue to improve our services and better serve our community.
For any lock or security issue you may encounter, remember that Fleet Locksmiths is here to help. Whether you need assistance with automotive locksmith services, residential locksmith solutions, or commercial locksmith needs, our skilled and experienced team is ready to provide prompt and reliable support.